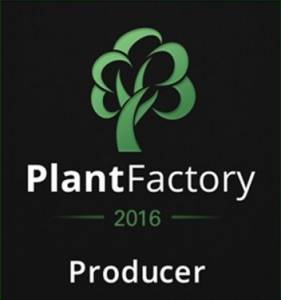 Название:

E-on PlantFactory Producer 2016 R2 Build 104398 [En] скачать торрент

Год выпуска:
2017
ОС:
Windows
Категория:
Графика
Требования:
Windows XP/Vista/Windows 7-8-10 (только 64 bit)
Видеокарта GTX470 / HD6950, с 1GB+ видео памяти
Поддержка Shader model 4 строго обязательна
Процессор Core i5 или более производительный
Оперативной памяти не менее 8GB
Свободного места на диске 4GB
Язык интерфейса:
Английский
Лекарство:
не требуется
Рейтинг на сайте:
Описание:
PlantFactory - это революционное средство моделирования, анимации и рендеринга 3D растительности. Разработан специально для CG, SFX, архитектурных и игровых сообществ. Программа позволяет создавать любую растительность, от мелкой травы до очень величественных деревьев. Уникальную по форме и цвету растительность можно собрать из простых строительных блоков. В программе возможно генерировать процедурную геометрию и материалы неограниченной детальности. Все элементы растения поддаются анимированию, используя готовые алгоритмы ветра и бриза. PlantFactory поможет реализовать растительность для компоновки внутри вашего проекта или для использования на афишах. Расширяйте свою библиотеку через TPF Nursery.

Нововведения:
What's New in PlantFactory 2016 R2
Stylized Meshing Mode
The new Stylized meshing mode allows you to quickly and automatically generate a low polygon envelope version of your vegetation model.
This new option allows you to export your models with a small polygon footprint, yet retaining the actual vegetation visual volume. Load the envelope version of your model while working on your scene; switch to highest resolution mesh before rendering.
Envelope resolution, smoothing and convexity quality is user configurable, from none - to get ultra-sharp edged meshes, to ultra-smooth - for more balloony results.
Stylized Meshing mode can also be used creatively to produce non-photorealistic vegetation.
3-Axis Billboard Leaves Rotation
Using Billboard leaves is ideal when working for Real-Time engines, or, in an offline workflow, to create low polygon plants to be seen from a distance. (Billboard leaves are perfect for VUE EcoSystem populations for instance).
PlantFactory 2016 R2 now introduces 3-Axis Billboard Leaves Rotation.
Quick and easy to set up, this new feature is perfect to avoid any obvious linear visual pattern, by letting you add slight randomization to your leaves axis rotation.
Use this option to immediately add more realism to your vegetation models.
What's New in PlantFactory 2016
Growth Simulation
- Easily generate geometry using a biologically inspired growth simulation
- Handles parameters such as growth, duration, shadow sensitivity, apical development etc.
- Once applied, this basically becomes a "Grow me a tree" button
Preset Variations
PlantFactory 2015 introduced the concept of Presets. PlantFactory 2016 now introduces the concept of Preset Variations(3).
Preset Variations allow you to immediately include subtle differences to your plant (change the number of buds on a blooming flower, or its petal colors for instance).
This new feature allows you to easily add variety to create realistic environments with one single plant species!
Level Of Detail (LOD)
PlantFactory now offers the ability to configure the level of detail in a plant model.
Once you have set the number of LODs you need, there are 3 ways to configure them:
1. Let PlantFactory automatically decimate the geometry for you
2. Set the behavior of each node in your plant graph depending on the LOD
3. Use the LOD selector node to set a different plant graph per LOD
Global LOD options let you select the type of geometry for Offline rendering or Real-time engines and control different aspect of your species LODs:
- The number of LODs and their distribution rules (depending on plant size on screen)
- The meshing type: Triangles, Quads or both
- Manual, Automatic Adaptive or Uniform subdivision
- Use LODs when rendering (the plant mesh used for rendering will be chosen using LOD rules)
- Optimize your LODs for use in VUE's EcoSystems
- And more...
Once set, you can export each LOD geometry independently to many standard file formats.
Finally, VUE, Carbon Scatter and Bentley LumenRT Connect Edition will automatically use the LODs set in your .tpf files, without requiring you to export the plant.
Additional Edition Parameters
Some new parameters were added in the Segment node to further help you customize your plant designs:
- Minimum length
- Branch distribution as absolute
- Texture mapping applied from branch top
- Interaction with ground

Интеграция:
PlantFactory in Your 3D Application
Plants created with PlantFactory can be exported to any 3D application using export formats such as Alembic, FBX, 3DS, OBJ, C4D, LWO, etc.
Plants are exported fully rigged*, fully textured, with UV maps and displacement. Breeze or wind animated plants can be exported as a fully rigged mesh or as a cloud of animated vertices* (MDD style).
You can fine-tune the animation of rigged* mesh plants directly inside your target 3D application.
PlantFactory also offers a variety of export presets, custom tailored for specific host applications. Such presets include export for 3ds Max, Maya, Cinema4D, LightWave, Softimage, Modo, ZBrush, Unity, Blender, and more...
Import Scripts
Aside from native .LWO and .C4D formats, PlantFactory can export plants as .FBX files. However, getting .FBX to import into 3ds Max and Maya can be tricky, which is why PlantFactory includes dedicated .FBX import scripts for these applications.
The import scripts will automatically set-up the plant geometry and materials to work directly in your target application, with your target renderer of choice*. You can also fine-tune global settings after import if required (bump, specular and translucency values).
Lightweight Presets
Plant presets let you define "shortcuts" to specific settings (age/season/health/parameters) of your plant species. The presets are visible in your plant collections, like any other plant.
When you load a preset, the actual plant species is loaded with the specific settings stored in the preset. That way, you can easily create multiple variants of a plant species (e.g. Young, Mature, Winter, Summer, Thriving, Dying - etc) for direct access.
You can even define variability for the settings: for instance, if you create a Spring preset, the season of the plant could be set to vary randomly from late winter to early summer.
Because presets are shortcuts to the actual plant species, you can improve the plant species and your improvements will automatically carry over to all your presets. Presets are also very lightweight, so don't worry about cluttering your hard-drive!
Export to Bentley LumenRT and Carbon Scatter
Just like VUE, Bentley LumenRT Connect Edition and Carbon Scatter will load PlantFactory plants natively. Use PlantFactory to build vegetation specifically optimized for LumenRT's real-time engine. Load your plants directly into Carbon Scatter and distribute them over your 3ds Max, Maya or Cinema4D scenes using e-on's amazing EcoSystem technology!

Моделирование и Комбинирование:
How Do You Create Plants?
Plants created with PlantFactory are built in three different ways:
- By manually drawing the shape of the plant you want,
- By assembling ready-made components, or
- By constructing everything from scratch, using a graph of nodes.
Manually Painting Vegetation
In Manual mode, you just paint branches using your mouse (or tablet). The graph of nodes is automatically regenerated after each mouse stroke. Once painted, you can access each painted element and easily fine tune every aspect of it using graph parameters, or even visually modify the geometry using standard manipulation Gizmos.
Modeling from Components
The Components method is the fastest and easiest way to model vegetation.
PlantFactory ships with a library of pre-made components for trunks, branches, leaves, fruits etc...
Component are fully textured, uv mapped, displaced, and pre-animated.
Just select the component you want to use, and TPF will intelligently add it to the graph and connect its parameters automatically, without any further action from you.
Of course, once created, you still have access to all of the plant's parameters to precisely fine tune your model.
Procedural Vegetation Modeling
Using the graph of nodes, you build your plants from simple geometry nodes. Each geometry node features multiple parameters that you adjust and combine together to achieve the desired look.
Each one of these parameters can be extracted and controlled using other nodes (for instance, you can link the size and color of your leaves to the age of your plant).
You can simplify and organize your graph by grouping portions of it as MetaNodes, and even save them for future use!
You can even create simple interfaces to control your plants: by publishing specific parameters of the graph you provide high level control to the intricate properties of the plant.
In a few words: Total control and endless possibilities!
Combine the 3 plant creation approaches and you get The Best 3D Plant Technology on Earth!
Displacement
PlantFactory provides unprecedented control by letting you drive any parameter of your plant with a graph of nodes. As an example, we illustrate here how easy it is to add detail to the trunk of a plant by driving its displacement with a fractal.
Drive displacement (or any other parameter) using fractals, and easily publish important parameters for later tweaks!
Seasonality
One of the key features of PlantFactory is its ability to dynamically set global plant characteristics such as plant age, health, and seasonality.
These characteristics can drive any node or set of nodes in the TPF graph to add more complete plant definition and realism.
For example, the seasonality node can drive the presence and color of leaves as shown in the picture above.
Compositing Ready
PlantFactory integrates a Render Engine that automatically generates and saves three channels (Color, Alpha and Depth). You can also generate full G-Buffer and Multi-Pass information for each frame, for maximum compositing options.
PlantFactory can save stills or animations in various file formats such as AVI, Mpeg 1, Mpeg 2, MOV or single frames for animations or BMP, PICT, JPG, GIF, IFF, PCX, PNG, PSD, TGA or TIFF for stills.
Industry standard G-buffer information can be generated and saved in RLA or RPF formats for compositing in dedicated applications such as Combustion, Avid, Flame and After Effects.
Finally PlantFactory provides extensive multi-pass rendering options. Virtually every rendering component, every layer, every material and every single asset can be assigned a separate pass and saved all together as a multi-layer Photoshop file.
Recursive Plant Modeling
PlantFactory is so powerful that it lets you create recursion loops inside your graphs, so that you can "program" iterative fractal behaviors directly into your plant species.
This is achieved through a number of dedicated nodes: Repeat, Next, End and Iteration.
In short, the "Repeat" node will repeat the node(s) plugged into it a (user defined) number of times. Once this number is reached, TPF will then continue processing the graph onwards (what's after the "End" node).
This technique will prove extremely useful to quickly generate variations of the same plant at various ages, for instance.
The above video shows how the simple Acacia plant easily creates an intricate branching structure thanks to the use of recursive modeling. Notice how the plant gets more and more detailed with the number of times the loop is repeated.
Not Just for Plants
The PlantFactory modeling engine is so powerful that it can be used to model other kind of meshes, not just plants.
While obviously not plants, the examples shown here illustrate the power and diversity of models that can be created using the PlantFactory procedural modeling technology.
By combining various noise, fractal, and math nodes, an almost infinite variety of organic and geometric shapes are possible. We are not suggesting that TPF is a general purpose modeling tool, but it can be extremely useful for producing models that contain repeating/recursive shapes (such as the spiral staircase) or for adding organic geometries (like the tubes on the turbine).
Grow Plants on Objects
With PlantFactory, you can cause plants to grow at the surface of objects.
This is ideal to create root networks, ivy or vines for instance.
Vines can be created from any branch, by selecting the "Grow on object" parameter. This will force the plant to attach itself to any geometry it finds along its way, including the ground plane.
Of course, all other branch growth parameters are retained (including sensitivity to gravity).

Процедура лечения:
Для взаимодействия со сторонними 3D пакетами вручную убирайте из названия всех путей установки окончание "PLE"

1) Установите программу PlantFactory 2016 PLE на компьютер
2) Запустите активатор для улучшения билда c PLE до FULL версии
3) Установите обновление (установится после выполнения улучшения)
4) Повторно запустите активатор и программа будет активирована

Если возникли неполадки с программой или плагинами, то переустановите ПО, зачистив следы от установки, используя CleanTool.
Скачать программу E-on PlantFactory Producer 2016 R2 Build 104398 [En] (2017) через торрент

Загрузил: 2 мая 2017 13:55 Статус: Проверено
Раздают:
149
Качают:
235
Скачали:
256
Друзья! Огромная просьба, оставляйте свои комментарии, если скачали программу E-on PlantFactory Producer 2016 R2 Build 104398 [En] (2017) через торрент бесплатно! Внесите свою лепту в развитие сайта!
Похожие раздачи